Building the Future
Guided by the need to adjust the health care system, dialysis services, of Moldova to the European requirements in view of ensuring the functioning of a modern health system, an obvious necessity to establish a Centre of Excellence appeared.  Such Centres of Excellence, having been already successfully deployed in industrially developed countries, represent the nucleus of sustainable development of a modern health system.
Placed in the Republican Clinical Hospital, the Centre for Excellence in Dialysis Services has a surface of 1941 m2, is a bright and spacious premises, placed on 3 levels, thus ensuring fair access and involvement in renal substitution therapy of about 400 patients requiring such treatment.  The program of the Centre (from 6:00 a.m. to 10:00 p.m.) and the 3 work shifts can adjust the program to the needs of every patient.
The centre is equipped with 48 dialysis machines B. Braun, a world brand in producing medical equipment.  Expansion in 2016 to 64 dialysis machines will place the Centre among the first units with such capacity in Europe.
The Excellence of the Centre is defined not just by the quality of services and technical equipment, availability of a system of intelligent management of patients' data and automation of medical personnel tasks, called Nexadia, the latter allowing to dispose of dialysis services in any location of the country and promptly facilitate the medical supervision of the medical act.
Being an exclusively private centre, for the patients of the Republic of Moldova the access to services is ensured on the basis of compulsory insurance for medical assistance.
This innovative project not only places the Republic of Moldova on a level with other European countries, but also can be a medical tourism brand in dialysis services, offering considerably cheaper, compared with other states, costs for patients from abroad.
Medical services are complemented by psychological counseling, nutritionist services, meals tailored to the specific regime of dialysis patients, transportation to the center and back home.
Patients have privacy, attention and respect, and observance of medical act requirements with due diligence is our obligation.
When we designed and built the Center of Excellence in Chisinau, we were guided by the most demanding international standards and we managed to successfully implement them.  We also wanted to equip it with high-technologies, so that the Dialysis Center has the image of a Centre from the future.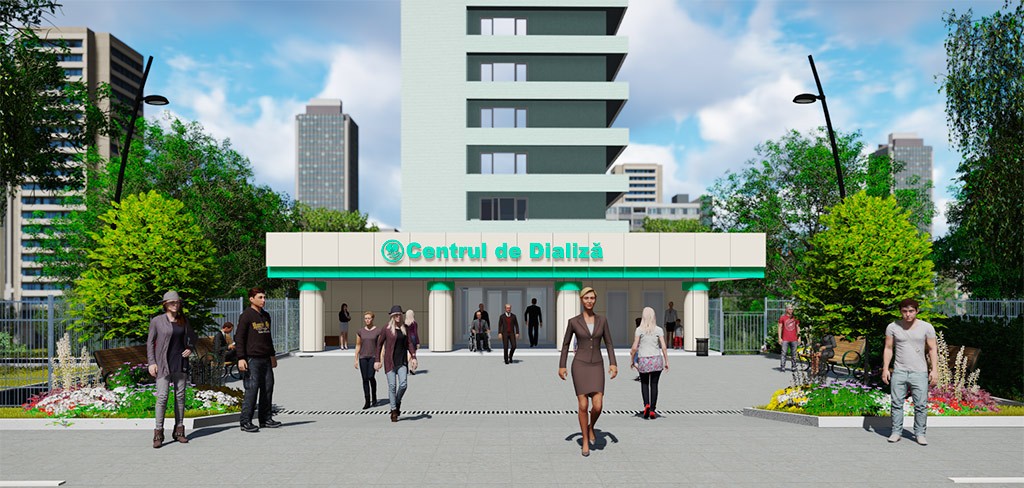 Steps up to a Center of Excellence:
Design and beginning of interior works;
Execution of renovation and modernization works of the Centre (building partition walls, electro- assembling works, air conditioning and ventilation, water and sewage, fire and alarm systems, assembling aluminum constructions: doors and windows, installation of new lift, execution of exterior works, territory accomplishment, etc.)
Training of medical staff in modern dialysis centers, outside the borders of the Republic of Moldova.
Connection of dialysis machines, installing of furniture and medical equipment, putting in exploitation of lift, connection to the source of power.
Launching of the Centre of Excellence.
Invalid Displayed Gallery